For Parents--Scratch Resources
Drawing for Children
Drawing for Childen is a free drawing program for children with many nice options. You can draw with many different pens, you can put stamps on your drawings, create all sort of text effects, and much more. The program is suitable for very young children and has a child mode especially for them. But it also provides lots of fun to older kids. It is used by hundreds of thousands of kids all over the world. The best way to see what is possible is to simply download it and install it. Remember, it is free.

Visit the Drawing for Children website for more info and Download Drawing for Children

About the author Prof Dr Mark H. Overmars

NOTE: There is one problem, you can only save files as (.bmp). For some reason, when importing a file, SCRATCH cannot open the file created with Drawing for Children. To work around, Open the file with Windows Picture Viewer and save as a (jpeg, gif, png) before importing with SCRATCH.
For the Older Kids and Parents
Real-DRAW PRO 4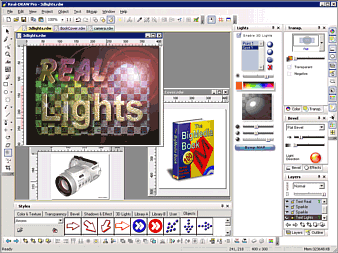 Create professional web or multimedia graphics from simple images, buttons, banners to whole interactive web page and rollovers.

Real-DRAW Pro happily combine vector, 2D, 3D and bitmap editing in one drawing package. It seamlessly moves from one form to another, eliminating time-consuming conversion operations and the need for multiple drawing packages.

For Windows 95/98/NT/2000/XP

Has many features like Adobe Photshop at a fraction of the cost.
Has a good Help with Tutorials.
Has a huge userbase and support forum, with quick response to your questions
I been using it for years, since version 1, and I am happy with it.

It's not free, currently cost $55 to register. Does have try before you buy, Full 30-days evaluation version.

Vist the Mediachance website for more info and Download Real-Draw Pro