Choosing The Right Hair Color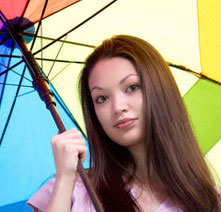 Choosing the best hair color shade can be tricky. It can be as difficult as deciding whether or not to color at all. Here are some things to consider whether you want your natural hair color, are covering gray or looking to experiment.
Even if you love gray hair, putting up with the in-between process and its random gray streaks can drive you crazy. That is definitely the time to experiment with color. Which shade you choose depends a lot on what your goal is. If youíre just bored with your hair and want a change, the color palette is your oyster. As long as your hair is in good condition and youíve got the bold personality to pull it off, you can experiment
with any color at all. See what itís like to be blonde or red or blue. You can always change back.
If your desire is for a more subtle look, you can try one of the semi-permanent dyes that wash out in 30 days. This is a great way to make a small change and see how you like it. Itís also much easier on your hair. If youíre covering gray, youíll want to choose a color that best matches your natural shade. This can be trickier than it seems, so this is also a good time to try a semi-permanent shade. Unless youíre completely gray, they do a good job of covering when youíre less than 50 percent gray. Try a different, but similar, shade each month until you get it right. You can always switch to permanent once you get the color down. Finally, salon coloring is a professional but more expensive option. If you can afford it, you may want to go this route.
Just remember, the real price includes the initial coloring as well as the maintenance youíll need down the road. Make sure to do some research before you choose a salon. The place you get cuts may not be the best for color. Get some recommendations before you make the appointment. Lousy hair color can be much more emotionally painful than a bad cut.
Take good care of your hair and enjoy the fun options we have with color. But donít forget that a shiny head of natural hair can be the most beautiful color of all. Nothing beats healthy hair. If youíre careful, you can have both.
Many of us are not happy with our natural hair color, and that can be all the incentive you need to change. But even the most resistant woman will often change her views about coloring when that natural shade turns gray.
Article brought to you by
HairstylesDesign